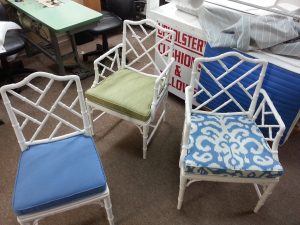 If you need any kind of upholstery work done, you have arrived at the right place.  Premium Upholstery has been in business serving South Florida since 1961.
From a single seat replacement cushion to a custom home interior we do it all and at a price you can afford.  Our primary focus in any project no matter how big or small is to do the job correctly and in a timely fashion using only the proper materials and workmanship.
See our product page for a list of items we upholster.
In addition to our basic upholstery services, we carry the full line of Sunbrella outdoor fabrics.  As an authorized distributor we offer a wide range of in stock colors and patterns.   In addition to the Sunbrella line we also carry a wide selection of upholstery fabrics from the best fabric sources in the world.
Unlike our competition, we will be pleased to give you a tour of our carpeted, fully conditioned work room where you will see work in progress and meet our highly skilled upholstery staff and seamstresses.You will find no other such state of the art workroom in South Florida.
If you are in the design field and have any scope project, we are capable of tackling it and delivering the finished product on schedule and right the first time.  It is not uncommon for our staff to work a seven day week to get a project delivered ASAP.
Please call or schedule an appointment or visit our showroom, when you have a project to complete. We are confident you will be back again and again to refer your friends and family to our shop. Our clients have been doing this for over forty years. Remember to bring along any colors or measurements you will need to complete your job when you visit. We will then give you the best advice as to design and color to make you love the finished product.
We hope to see you soon for a quote.